We've improved our activity & programme tools!
| Tagged under: Software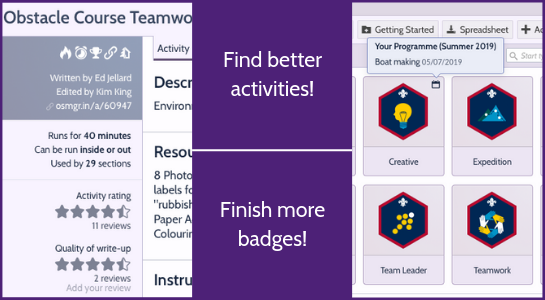 We have been working on more tools to help our leaders find better activities and plan better programmes.
With our growing activity database of 15,000+ activities contributed from our Scout, Guide, Boys' Brigade and club leaders worldwide, we are committed to helping our users provide the best activities they can to their members.
Our new activities rating feature asks leaders to rate activities that they've used, and they can also rate how well the activities have been written. We've added this functionality to help leaders save even more time by making it easier to find good quality and well written activities.
Another handy new feature, available to our Gold level users, is a calendar icon on the badge pages and the extra detail shown in the badge grid headers indicating that they are covering that badge/requirement in their termly programme. We've added this new tool to help leaders easily identify when and what badge/requirement is being completed, helping them to easily see any outstanding requirements that haven't been planned into the programme yet.

These new features are designed to make our leaders lives easier. If you use Online Scout Manager, Online Guide Manager or Online Club Manager, login and check them out!
---